Creating a Bible Gateway account is easy! To create an account, click the Log In/Sign Up button in the upper right corner on BibleGateway.com:

A larger window will appear offering you the chance to create an account or log into an existing account. Click Sign Up at the top of the screen: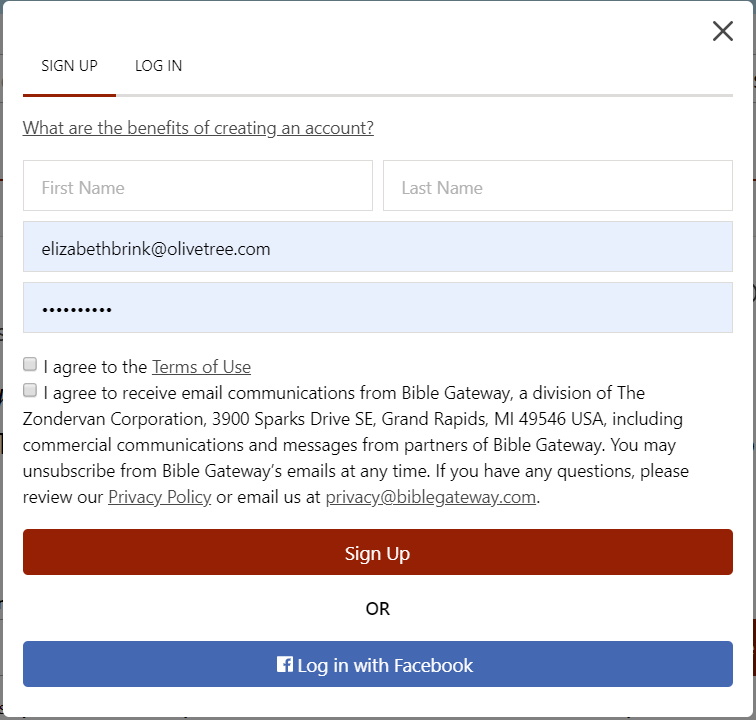 If you don't have a Bible Gateway account, enter in your first and last name, email address, and a password. A few tips:
This link will give you the password requirements for Bible Gateway.
You must check the box to the left of I agree to the Terms of Use to create an account.
When you're done, select Sign Up to complete the process.
Once you've created an account, you'll receive an email welcoming you to Bible Gateway. You can log into your account by clicking Log In in the upper right corner on BibleGateway.com, entering your account credentials, and selecting Log In. You now have access to your account and any notes, highlights, or favorites you've created with it.
There is also an option to sign into Bible Gateway using a Facebook account without creating a separate Bible Gateway account. To do so, select Log in with Facebook from the Sign Up window (see screenshot above). Make sure that you're logged into your personal Facebook account before doing so.