To turn on the red letter feature on BibleGateway.com, click on the Options icon on any Bible passage page to bring up this menu: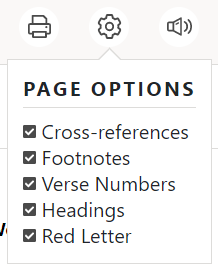 Click the checkbox next to 'Red Letter' to add a check mark and the Bible passage will be updated to display Jesus' words in red. Please note that the red letters are only available for Bible translations that support this feature.
The red letter feature requires that certain markup tags be present in the original digital texts that we receive from Bible publishers. Bible translations that support this feature include the CEB, NLT, ESV, HCSB, NASB, NIV, and NKJV. Spanish Bibles with red-letter support are La Biblia de las Américas, Nueva Biblia Latinoamericana de Hoy, Nueva Traducción Viviente, and Spanish Blue Red and Gold Letter Edition.