In the upper right corner on most pages on Bible Gateway, you will see a Font Size option that you can click on:

When you click on Font Size, you'll get a drop-down menu that allows you to choose a text size: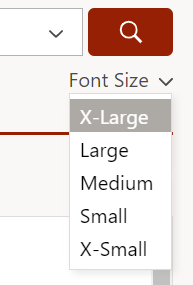 Your current font size selection is highlighted. Click on an option from the list to decrease or increase the font size.
You can also adjust your browser's font settings to change the size and appearance of text on Bible Gateway if the above option does not meet your needs.